David LaChapelle: a hyper-photographer
David LaChapelle was born in 1963 in Wisconcin, in American's mid-west. He is known internationally for his exceptional talent combining a unique aesthetic of hyperrealism with deep social messages. Legend says that the first picture he took was a portrait of his mother, Helga LaChapelle, in a bikini martini glass in one hand on a balcony in Puerto Rico. He studied art at the University of North Carolina (UNC) thinking he would become a painter or illustrator. But photography caught his attention and for which he developed a passion.
His career began in the 80s in New York where he went to try his luck after spending only one year at the University. To support himself he began to work in the most famous New York club of the era, the Studio 54. He slept in a hostel where the lost souls of NYC and drug addicts were crashing. Meanwhile, David LaChapelle starts hanging out with influential and trendy artists of that time thanks to his encounter at Studio 54. In 1982, Andy Warhol's Interview magazine editor-in-chief publishes first photos of crossed anonymous naked in the streets and the new York nightlife.
He was only 19 years old. His celebrity photographs published in Interview magazine will quickly draw attention to his creations. He soon began to receive large orders, enabling it to create a variety of famous editorial publications and the most memorable commercials of his generation.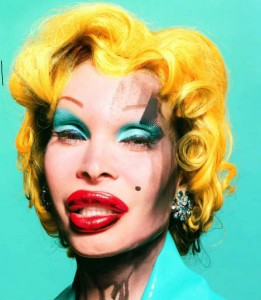 David LaChapelle has an exuberant world, lively and colorful. His photographs can be seen everywhere, from posters to glamor magazines, MTV and film. His photographs are hyper colorful, zany, bold and provocative, like a dream that would mix a nightmare all inspired by inherited rules of pop art. His photographs are influenced by Baroque painting and porn chic. He is known to not always put his models in idyllic locations such as dilapidated buildings, fast-food, delivery room, office or meat stall, the objective being single: exalt the beauty and glamor. He mostly succeeded in developing its own language.
His striking photographs made the cover or have been published in Italian Vogue, Vogue France, GQ, Vanity Fair, Rolling Stone and I-D. Furthermore, he photographed everyone in Hollywood, the cream of showbiz, sport and fashion: Madonna, Andy Warhol, Lance Armstrong, Pamela Anderson, Uma Thurman, Leonardo DiCaprio, Britney Spears, Katy Perry, Hillary Clinton Kanye West, Lady Gaga, Angelina Jolie and many others.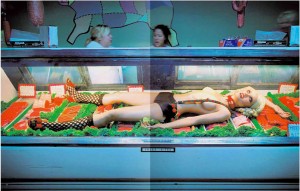 After establishing itself as a great value of contemporary photography, LaChapelle has decided to engage in another form of creation of the image by performing music clips or the staging of drama and documentary films. He has directed music videos for Amy Winehouse, Jennifer Lopez, Elton John, Britney Spears, No Doubt or Mody.
In 2006, he decided to spend less time on ad photography and focus on art photography allowing him to be exposed in the most prestigious museums worldwide. In 2011 he was elected best artist of the year by the Museum of Art in Tel Aviv, Israel. During his 30 year career, David LaChapelle has been and continues to be inspired by everything around him, from the history of art to street art, metaphysics to immortality allowing him to project in his pictures an image of the 21st century both loving and critical.
LaChapelle has successfully established himself as a major artist in the celebrity photography field and as an insightful and intelligent artist of contemporary photography.